previous breakdown | next breakdown
www.ancestry.com
, watching the Olympics (I heart Nastia, Shawn, and Michael!), selling things on Amazon, eating cookies and ice cream, and wanting to perm my hair but chickening out every time I go to make an appointment with my hairdresser. Oh, and spending lots of time with awesome friends, most of which was in celebration of my birthday...! I had a wonderful dinner with Gaz on the Saturday before the big day (fantastic tapas and South American wine). I took the day off of work on my birthday and spent it with
clarkdreams
. We were supposed to go to the beach, but the weather was rubbish, so we went to Providence Place instead. I gave the credit card a good work out at Sephora, Gap, and Delia's. We had lunch at The Cheesecake Factory and
clarkdreams
was sneaky and got the waiters to sing to me. I'd managed to avoid that for 24 years!! I got a second round of it when we came back and met up with
foreverseenstar
and
valyp
for dinner at Carrabba's. An innocent dinner turned into quite the shitshow with drinks at the bar and staying well after they closed to pirate and zombie porn to me puking like a college freshman. You guys keep me young! Thursday I had a dinner at
jadziadaxwb
and
_mendon
's house... delicious veggie risotto, luscious brownies, and Wii!
Friday
clarkdreams
and I picked up
athena2483
in Manhattan and headed down to her dad's beach house in Ocean City. We didn't get in until 3AM with late starts and rain and the apocalypse in NYC and SPIDERS OF DOOM THAT
clarkdreams
KILLED WITH HER BARE HANDS but that was just fine for rolling out onto the beach and enjoying gorgeous weather all day on Saturday. That night we went out to
Fager's Island
, watched the sun set to the 1812 Overture, had a fantastic dinner, hung out on the dock, did some dancing, and had a fantastic time. It was so incredible when the 4x100m medley relay swimming race was on, the entire bar was cheering, everyone stopped and watched. I felt so much pride! GO USA!! We walked on the beach at night and it was gorgeous. I need to have a house on the beach like immediately. I forgot how much I love it. It sucked that we had such a short time there, but I had a fantastic time with two of my favorite girls.
THANK YOU EVERYONE FOR THE MOST INCREDIBLE BIRTHDAY WISHES AND PRESENTS AND EVERYTHING! Oy the presents! You spoil me! I think
clarkdreams
and
athena2483
win with spoiling me the most...
THE MOST BEAUTIFUL STAND MIXER I'VE EVER SEEN
. Well, I mean, I've seen this one before plenty of times in the store, but this one is the most beautiful because it's MINE. I can't wait to use it! EEE!
BUT... they were almost outdone: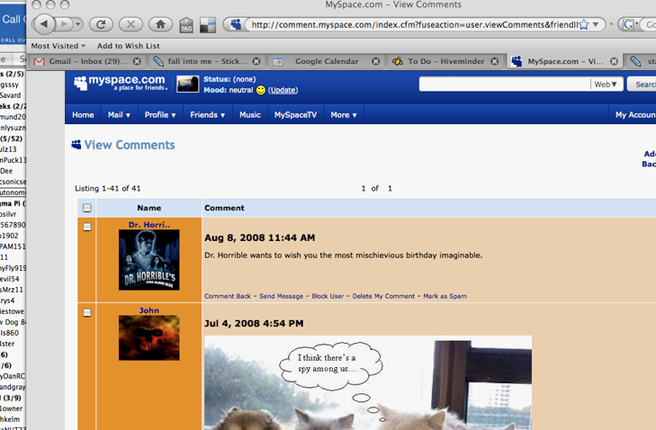 THATS RIGHT, BITCHEZ! DR.HORRIBLE WISHED ME A HAPPY BRITHDAY!! BEST. BIRTHDAYWISH. EVER.
And now Captain Hammer is coming to Dragon*Con! \o/ HOLY SHIT ONLY 8 DAYS!
I was going to make this post a lot more profound, talk about what it feels like to hit the big 2-5 mark, but, this is already too long. And the TV is behind me and the men's gymnastics is on. Later, skaterz.
I cannot believe how badly I have procrastinated on making this post! And with no good reason! So what has been taking up so much of my time that I've not had time to blog since I've turned 25? Truthfully most of my time has been spent playing on
location:

bedroom

mood:

cheerful

music:

watching The Olympics